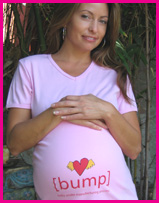 There is certainly no hiding it anymore… I am definitely pregnant and showing. My belly has morphed into a good-sized bump (if not a basketball!). I figure it is time to embrace my pregnant body, so today I wore my [bump] maternity shirt to show it off.
[bump] stands for baby under manufacturing process. Catchy, huh? The [bump] logo is right where you would expect it to be… on your growing belly. At least people will know I am actually pregnant and won't think I am slacking at the gym when I wear this shirt! There are a number of cute items to choose from, including tanks, short- and long-sleeved tees, tees for dad, hats, pants, and more.
The shirts have a great fit (not too baggy and just the right amount of cling to your belly) and are very comfy and cute. Purchase anything from the [bump] site and receive 10% off your purchase when you use code MWS10.