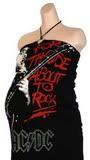 So maybe you're like me and you'll be spending more time rocking in a chair than rockin' out at concerts for a while, but that doesn't mean you can't at least look like a rockstar. For some uniquely eyecatching maternity wear, check out RockStarMoms.
They have an impressive selection of hip maternity and childrens clothing you won't find elsewhere. From fun tanks and tees to rock shirts, Yoga wear and even kids clothes, RockStarMoms knows that Mommies are the one's who really know how to rock. (And the fact that their super comfy yoga pants have seen more time on my sofa than on my yoga mat can just be our little secret.) Rock on Mommies!
Use coupon code: STYLISHMOM for 15% off of your order.