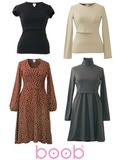 From award winning Swedish designer Mia Seipel comes Boob, a high fashion and high quality line of maternity and nursing wear to complete any mom-to-be or nursing mom's wardrobe.
Mia understands that expectant moms want to look good, be comfortable, and have clothes that will last longer than nine months. Boob Maternity wear features wraparounds and adjustable linings that can be folded up or down based on comfort. All of the materials are very soft and comfortable with the ability to expand with your growing belly. Boob definitely has everything your wardrobe needs to keep you in style throughout your pregnancy and well into nursing.
All of the nursing tops and dresses feature a double layer of fabric over the bust in order to form an overlapping opening. The opening can be pulled open to making nursing comfortable and discreet while still sheltering you from the cold. Thanks to Boob comfort and style can actually co-exist quite nicely!