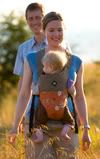 Most people I know have the Bjorn to tote around their infants and toddlers. It's a nice product, but it's not exactly stylish, and it is also pretty hot and bulky for both me and my infant.
So I recently tried a Belle Baby Carrier. What a cute, functional, and stylish carrier! The first thing I noticed when I put on this carrier was how light and cool I felt wearing it. I also love the fabrics (nice and soft) and the wide variety of color choices. I have a bad back, so the fact that the waist belt takes half of the baby's weight off of me is awesome. Finally, it is very compact and easy to throw in my diaper bag for transport.
Mom stars like Julia Roberts have been spotted wearing a Belle Baby Carrier. The high-fashion fabrics like leopard, cow print, and more allow for some personality to show when toting around your baby. Also available are organic fabrics in moss and sand colors!
Purchase a Belle Baby Carrier and receive 20% off using code "mommies".