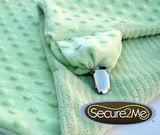 There are so many blankets out there. Many are soft, beautiful, warm, and perfect for your newborn, infant, or older child. But have you ever heard of a blanket that goes beyond beauty for fabulous function?
Secure2Me's Clip-On Blanket is just that — a beautiful, functional blanket. What makes it so unique? It's special size and clips on each corner of the blanket hold it in place on your stroller, car seat, or over your baby carrier. Or clip it to your shirt and have an instant cover-up for nursing!
The blankets are extremely stylish, too. There are lots of cuddle soft fabrics like minky and fleece, as well as silk brocades, cottons, and more. Check out their collection of blankets!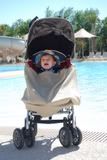 One of their most practical and unique products is the Eclipse SolarVeil Blanket. This is a super-cool, sun protective blanket that blocks 95% of UVA & UVB rays. How great is that?! It's perfect for walks outside, the park, pool, and more. I can honestly say that I am thrilled to have this blanket to use this summer with my newborn son. I know we will be outside often and having this blanket will be a life-saver – it will keep him cool, comfortable, and will shield him from the sun (which is such a relief when you can't use sunblock!).
Receive free shipping when you purchase 2 or more Secure2Me blankets. Enter code MWSFS at checkout. Enjoy!