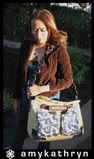 Earlier this year I reviewed a diaper bag by Amy Kathryn and it was a huge hit on this site. Lots of you ladies purchased Amy's cool, trendy bags, and I know many of you are wondering what new items Amy has to offer.
I recently got a hold of Amy's newest bag called the Hydrangea diaper bag. It has her signature slouchy style but they added some big pockets to the outside. I absolutely love the color combination of chocolate brown, denim, and taupe. The fabrics are unique and soft, and the textures are varied (some cord, ultrasuede, and satin) and interesting. The bag is spacious enough for me to tote around for my infant and three-year old, but not too big that it is overwhelming. There are plenty of pockets outside and a few inside to keep your organized. The bag also comes with a matching (plush) changing pad with pocket.
And one of my favorite features of Amy's bags is that they are eco- and animal-friendly. Though it looks and feels like leather and suede, all materials are eco-conscious!
This bag is functional, eco-friendly, and fashionable — what more can you ask for in a bag!? Trust me, pick up one of these bags and you will be stopped by many asking where you got it. Enter code MWS20 to receive 20% off, plus, if you are in the US, you will receive free shipping too!