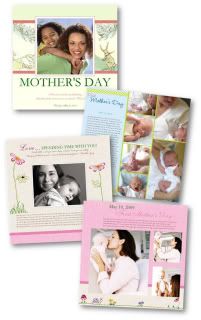 How Fast They Grow digital scrapbooking is one of my favorite sites and tools that I use to preserve my photos and memories. (Enter "How Fast They Grow" in the search button above and you can read my many reviews on this awesome site!)
But did you ever think about creating a beautiful, keepsake 12″x12″ page for any of the moms, grandmoms, Aunts or other special women in your and your childrens lives? I love the idea of making a special page, framing it, and giving it as a gift to my mom. At only $5.50 per page, it's just slightly more than a greeting card and certainly much more exciting and beautiful. (And if you take advantage of the special buy one page, get one free promo, each gift page is less than $3 each! Use code MYGIFT through May 2nd at checkout to receive a free page.)
Enjoy and experience this great website and product and enter to win a $75 gift card to the site. To be entered to win, please visit our boards and tell us your plans for Mother's Day and what you wish for that day. We will draw the winner on May 8th.
And remember: the free Mother's Day Page Incentive runs through May 2, 2009. Enter MYGIFT at checkout to receive a free page.