The following is a review by Marly, an opinionated 10 year old, who loves to share her thoughts on the latest and greatest.
I was so excited for the release of The Suite Life of Zach and Cody Suite Sweet Victory DVD. I love to watch this show because it always gives me a good laugh. The show is about identical twin brothers who live at the Tipton Hotel. They are always getting into trouble.
Every episode has a good lesson in it.
For example: When your mom says not to do something, you should listen to her. If you don't, you will get caught! I love the cute outfits that the characters London and Maddie wear. My favorite episode was when Zach and Cody both ran for class president. I liked how the brothers were very competitive and argued but made up in the end. This DVD includes funny outtakes and a game that you can play to test your knowledge about the series.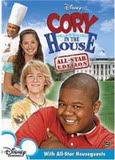 Cory in the House is a show about a teenager (Cory) who moves to the White House when his dad becomes the chef there. His sister is Raven from the series "That's So Raven"so if you are a fan of that show, you will love this one too. Raven has psychic abilities and Cory is obsessed with earning money. In every episode he has a crazy scheme to make a million and gets into all kinds of trouble. The actors who play Cory and his friends are very talented and funny. The Cory in the House All Star Edition DVD has three episodes with guest star appearance by Raven and wrestler Dwayne "the Rock" Johnson. My favorite episode is when his sister Raven comes to town. She ends up dressing Cory as a girl, which is hysterical. This DVD has behind the scenes bonus features. You can't help but laugh.