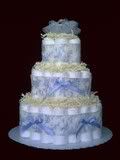 When a big box arrived in the mail the other day, my entire family was interested to know what was inside. When I said it was a diaper cake, I got a nice response, but nothing too exciting. Then I pulled the diaper cake out of the box… and both my husband and son got wide-eyed and exclaimed "wow!". All of us were blown away at the design, beauty, and overall look of these beautiful diaper cakes.
Diaper Cakewalk sells diaper cakes that span all different themes: boys, girls, diaper castles, poundcakes (mini diaper cakes), eco-friendly cakes, and more. These amazing, well-made cakes are practical for a mom-to-be or a new mom. And there are so many great uses of these cakes:
– a great baby shower gift or centerpiece for a shower, a bris or baby naming
– a great gift to deliver to a hospital instead of flowers
– a great alternative to a registry gift
– a nice gift for the second-time parent who has everything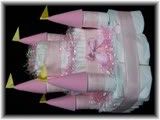 We all know that you can never have too many diapers. So gifting a diaper cake not only is practical, but is beautiful, engaging, and exciting for the recipient.
All of Diaper Cakewalk's cakes are made with Pampers Swaddlers size 1-2 (except the sampler cakes, which are a mix). I love that you can hide inside of the cake and around the cake little items like Huggies Baby Wipes, Baby Vaseline, Johnson's Baby Powder, Desitin Diaper Rash Cream, Alcohol swabs, Sassy Diaper Disposal Sacks, and Hand Sanitizer.
Another cool option for those of us who are crafty, is that you can order a do-it-yourself diaper cake that you can decorate to match a specific theme or party.
Check out the entire selection of beautiful cakes available and make a pregnant friend or new mom happy with one of these great gifts!