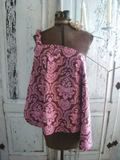 And If you don't have a beautiful nursing blanket you need to visit My Turtle Baby. This is a uniquely designed Nursing Blanket which uses a beautiful variety of 100% cotton fabrics to ensure the comfort of Mom and baby. It features an adjustable arm strap to hold the blanket in place and also an ingenious peek-a-boo window for Mom and baby to keep eye contact.
The blanket is completely reversible with two coordinating fabrics, which is not only fashionable but helps Mom to remember which side she last nursed from. The My Turtle Baby nursing blanket is also ideal for bottle fed babies who prefer a quiet environment while feeding, as Mom can hold the bottle through the peek-a-boo window too. Plus it is lightweight and can quickly be rolled up and stashed in any purse or diaper bag. So don't stay home, or hide out in a car or bathroom, get out there and show it off!
Mommies with Style can use the code UNIQUE to receive a 10% discount on any product at My Turtle Baby .