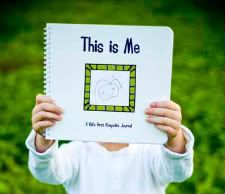 I love the idea of the This is Me Journal. Its a record book all about the author by the author. The spiral bound book hosts 94 pages to record his thoughts, his favorites and his illustrations.
About half the book has writing and picture prompts such as "Once upon a time…", "My Nightmares. Sometimes I have bad dreams about:", and "I feel Proud: This year I learned how to:". The other half offers spaces for "More thoughts and drawings" offering the freedom for kids to express themselves.
So, my original thought was that this book would be great for kids who are writing on their own, so school age kids, along the lines of 6-10 years old. But when I was looking through their site, I realized just what a wonderful thing it would be to do this journal with your child. Journaling together opens the door for conversation, reflection and insight. It gives parent and child opportunities to learn together about each other and to explore common and not-so-common interests.
Buy your own copy of This is Me, a Kid's First Keepsake Journal. And when you purchase 2 or more, you'll receive free shipping. After they placing your order, e-mail sales@thisismejournal.com and say you saw This is Me on MWS. the shipping costs will be refunded.