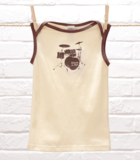 Fig Kids is a relatively new line of kids clothing that is really making an impact with their playful, stylish, modern ORGANIC clothing. Not only is each piece adorable and unique, but it is made from organically grown cotton from factories who treat their employees ethically. So not only is your child wearing something good for them and the earth, but they are contributing to a better tomorrow (and maybe even learning a little bit about the earth, too!)
The shirt that my son tried out is an absolutely adorable cream muscle T with brown contrast trim. Perfect for my little drummer, it is soft and has just a tiny bit of Lycra in it to make it stretch a little and hold it's shape. There are a ton of adorable and unique items from the Fig Spring Line that are certainly worth checking out.
Try anything from the Fig line and receive 20% off! Use code FIG08MWS.