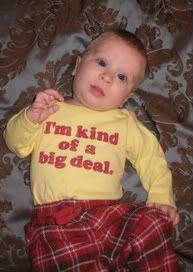 Thanks to Gumdrop Lane, my little man is getting as many laughs as Will Ferrell in 'Anchorman', but I'd like to think he's still a little more "classy" than Ron Burgundy. These great onesies and Tees are designed by Punkster and are available through the online children's boutique, Gumdrop Lane.
As you can tell, I got a real kick out of the "I'm kind of a big deal" onesie, but there are also many other really funny ones, like "iPood" and "Bluetoothless". Not only are they funny, but they are made from the softest 100% organic cotton and they hold up great after much washing and wearing. Ours has been thoroughly tested with drool, spit up, and a variety of other baby related substances, if you know what I mean.
Let's face it, parenthood is full of so many very serious situations and decisions that if you can enjoy a few laughs here and there it will remind everyone to relax and just have fun with it all. So get yourself a great deal on some super funny and cuddley soft baby wear at Gumdrop Lane. Use the code 'mommieswithstyle' to receive 15% off storewide.